Impairment in recall memory after contextual fear conditioning depends on sex and age of APP/PS1 mice
Women living with Alzheimer's disease (AD) is greater than men, which has been attributed to longer lifespan. Women are well protected from neurodegenerative diseases than men prior to menopause; however, when the estrogen levels drop abruptly during menopause, the clinical outcomes worsen. We investigated sex-specific differences in the progression of AD using familial APP/PS1 mouse model. Female APP/PS1 mice did not show recall deficits until eight months of age. Activity dependent protein synthesis and Akt1-mTOR signaling impaired in male but not in female mice until eight months of age. We analyzed the Dominantly Inherited Alzheimer Network data and found that progression of memory impairment differed between men and women, wherein men showed steeper cognitive decline irrespective of the age, while women showed significantly greater performance and slower decline. We conclude that sufficient estrogen levels provide substantial benefits, and a deeper understanding of the signaling pathways is required to identify creative approaches for reducing the adverse effects of hormone replacement therapy.
References:
Kommaddi RP, Verma A, Muniz-Terrera G, Tiwari V, Chithanathan K, Diwakar L, Gowaikar R, Karunakaran S, Malo PK, Graff-Radford NR, Day GS, Laske C, Vöglein J, Nübling G, Ikeuchi T, Kasuga K, the Dominantly Inherited Alzheimer Network (DIAN), Ravindranath V. Sex difference in evolution of cognitive decline: studies on mouse model and the Dominantly Inherited Alzheimer Network cohort. Translational Psychiatry. 2023. 13:123.
Last Updated on August 10, 2023
Click image below to view enlarged version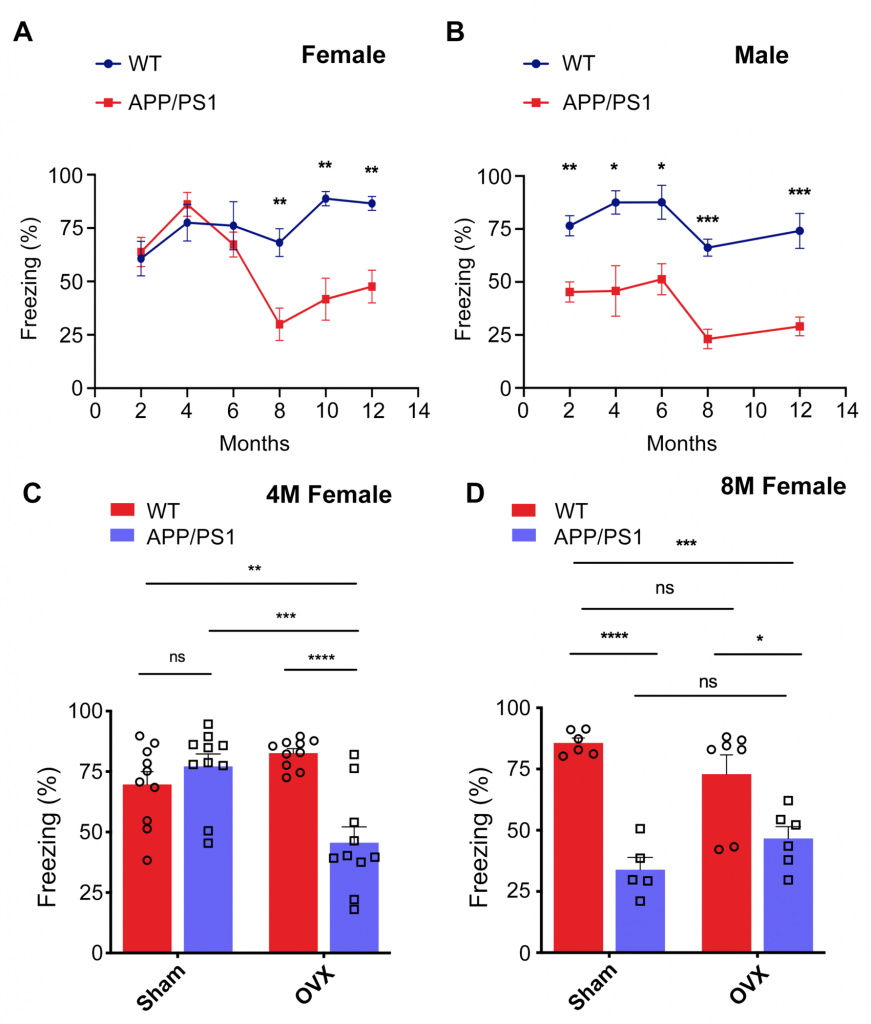 (A&B) Histograms are showing the freezing response of female and male mice at different ages. Impairment in freezing response was observed in 8M, 10M, and 12M old APP/PS1 female mice whereas male mice exhibit decreased freezing response at 2 months onwards. (C&D) Sham or ovariectomized (OVX) APP/PS1 female mice exhibit significantly decreased freezing response than the sham or OVX WT female mice at 4- and 8 months of age.